Flight Training Sponsorship
It's no secret, Flight training is expensive.  If you have money to spare, consider donating to my continued flight training.  I would love to continue flying but lets face it,  Money is tight.  I work full time and do as much side work as possible but there is little money left for flight training after all the bills are paid.  Some day I dream of owning a small charter company in the Caribbean.  A de Havilland DHC-2 Beaver on floats is my ultimate airplane!  All I ask is you help if you can.  Click the donate button below or call West Bend Air Inc, and donate to my account by phone (1.800.310.5603).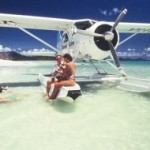 I can assure you that every penny will be use directly for instruction and rental time at my local airport.  Support General Aviation directly.  I train out of West Bend (KETB) and encourage you to consider them for your flight training if you live in the area.  They have great instructors, fine facilities, and adequate airplanes for very reasonable prices.
Thank you for your consideration.