X-Wind Assistant Tutorial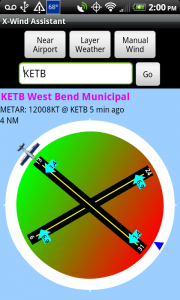 When the app starts it will automatically attempt to find your current location on Earth using the cellular network and/or a GPS if your device is equipped.  When your position is obtained, the airport that is closest to your position will be displayed on the screen.  This behavior can be altered using the preference  'Auto load closest airport on start up'.
The display with the blue background lists the Airport ICAO and name.
The wind related information within the METAR is displayed
The distance you currently are located from this airport
The airplane graphic represents the preferred runway based on cross wind component
The numbers within the light blue arrows represent the wind direction and cross wind component for that runway.
The green to red gradient represents head wind and tail wind.  a runway number appearing in the green area is a head wind or preferred runway.  the runways falling within the red portion of the gradient represent tail wind landings and should be avoided.
The blue triangle on the outside of the circle indicates the wind direction.
---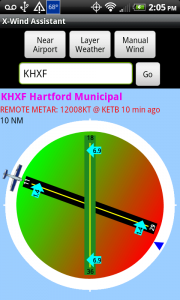 If the surface of a given runway is know it will display in a color coded system.  asphalt and concrete runways appear in black and turf, grass, gravel, and dirt runways appear in green.  if the runway surface is unknown it will appear in yellow.
---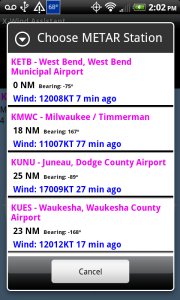 A remote mETAR station can be overlayed onto an airport that does not have local weather.  in this case the wind condition line will read REMOTE METAR and be displayed in red.  you can choose the metar station you would like to layer based on a list of the closest stations using the layer Weather button or have the app automatically load the closest metar station within n miles.
---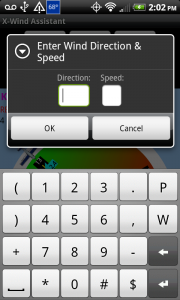 If you prefer you can enter the wind speed and direction manually for any airport and all calculations will be performed.
---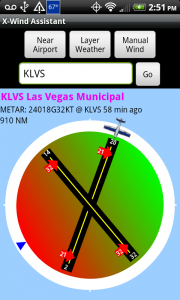 The maximum cross wind component before warning preference will display the cross wind component arrows in red if exceeded.  the default value is 15 but is configurable.
Hint:  Students could set this number to the maximum value assigned by their instructor.
---
Search for an airport by icao code, ata code or name.  type your search in the box and click go.  if there is an exact match the airport is loaded automatically.  If multiple results are found a list is provided to select from.